The Department for Education (DfE) has updated its guidance for day and overnight educational visits. Any educational day visits must be conducted in line with relevant coronavirus (COVID-19) secure guidelines and regulations in place at that time. This includes system of controls, such as keeping children within their consistent groups and the COVID-secure measures in place at The Blackpool Tower To maintain social distancing with other guests, we request school groups separate into groups of 6 before arriving at The Blackpool Tower and not mix with other groups.
Schools should undertake full and thorough risk assessments in relation to their educational visits to The Blackpool Tower to ensure it can be undertaken safely. You can download our supporting risk assessment to help write your own here.
2. DISCUSS AND BOOK BY PHONE
If you require any further information or would like to make a booking over the phone please don't hesitate to call 01253 622242. Our education managers will be more than happy to provide all the information you need to ensure you and your students have a memorable, inspiring experience.
3. BOOK NOW PAY LATER
Alternatively, if you would like to make a booking now with our pay later option please fill in the form by clicking the link below and we'll get back to you within 72 hours. Changes and cancellations can be made to this booking up until the point of payment but payment must be made 10 working days in advance of your visit date. Once paid, bookings are non-refundable and non-transferable. This booking option is only available for bookings at least 15 days in advance of the visit date. 
SCHOOL BOOKING FORM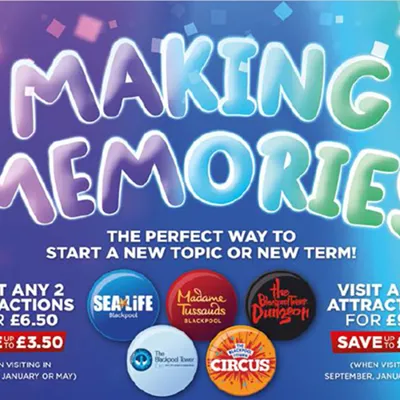 Special Offers
We now offer special discounted rates for school visits in January, May or September.
To discuss or book your trip with the Making Memories offer, please email schoolsblackpool@merlinentertainments.biz
Please note - Individual attraction opening times may vary throughout the year