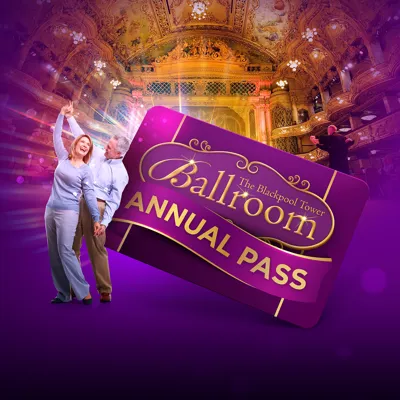 WALTZ AWAY ALL YEAR!
We're excited to bring you an exclusive ballroom pass!
Step into the sensationally stylish Blackpool Tower Ballroom again and again all year. This £99 pass gives you unlimited entry for 12 months*.
Soak up the atmosphere, listen to the wonderful organists or dance the day away in style.
*Valid for 12 months from the purchase date. Subject to availability. Subject to Ballroom opening hours, excludes ticketed hire events and closure dates for private events.  
Pre-booking passholder tickets
Annual Passholders are advised to check the opening times and to pre-book tickets before visiting The Blackpool Tower Ballroom. There's a limited capacity per day and although pass holders are welcome to turn up and book on arrival, pre-booking is the only way to guarantee entry.
You can pre-book your tickets now using the link below.
Visit The Blackpool Tower Ballroom as many times as you like
Dance the day away
Enjoy live music provided by our talented organists from the mighty Wurlitzer
Pre-booking visits online is highly recommended
BALLROOM PASS FAQs
This pass is designed for regular visitors to the Blackpool Tower Ballroom. It allows unlimited entry to the holder, and it is valid for use whenever the Ballroom is open for general guests to enjoy – no open dates are excluded from this pass!
The number of Ballroom Annual Passes available to purchase is limited.
The pass gives you entry to the Blackpool Tower Ballroom only.
It does not cover any refreshments that can be purchased in the Ballroom.
This pass does not cover entry to other attractions within The Blackpool Tower or other Merlin Entertainments attractions. If you are looking for a pass to cover the Tower Eye, Blackpool Tower Dungeons, SEA LIFE, Madame Tussauds or any other Merlin Entertainments attraction in the country, take a look at the Merlin Annual Pass options available.



There are no restricted dates within Ballroom opening hours.
There are dates throughout the year that the Blackpool Tower Ballroom is closed to the public for maintenance, private hires or ticketed events hosted by external companies. Unfortunately, these dates are not open to pass holders.
We recommend checking the opening hours online before any visit. If we are open, you are welcome to enter with your pass!
There's a limited capacity per day and although passholders are welcome to turn up and book on arrival, pre-booking is the only way to guarantee entry.
The best way to purchase your pass is though the online booking system, however it is also available to purchase from the admissions desk in person at The Blackpool Tower during opening hours.   
The pass is a digital document with your photo on it that can be presented on your phone or printed out at home. If you require further help with presenting your pass, please enquire at the admissions desk on your first visit.
Yes, this will need to be uploaded during the purchase process. It is important that if you are buying more than one pass when uploading the photos, you upload them in the same order as you enter each person's details. For example, you enter details for Peter, then Linda then Colin. When uploading the photos you should upload Peter's photo, then Linda's then Colin's.
The photo does not need to be an official passport photo in terms of background requirements etc. but it needs to be passport size.
There's a limited capacity per day and although passholders are welcome to turn up and book on arrival, pre-booking online is the only way to guarantee entry.
The Ballroom is not open every day. Always check the opening times before travelling to the attraction.
Purchasing an annual pass gets you unlimited entry to the attraction only but Annual Pass holders do get a discounted rate for Afternoon Tea! Afternoon Tea for 2 starts at £29.90 for pass holders (£50 for none pass holders).
You can book your discounted rate here. Remember to show your pass on arrival for the discounted rate to be validated.  
It is free for anyone under 15 to enter the Ballroom and therefore they do not need a pass. If you are pre-booking your entry there will be an option to book them a free space alongside you during the online entry reservation booking process.
Yes, you will need to purchase an annual pass for yourself, and you can then claim a free carer pass at the same time. Please note that you will need to bring a DLA letter, Blue Badge or equivalent to verify your Carer's Pass when you visit every time.