Rainy Days activities in Blackpool
Tuesday 1st November 2022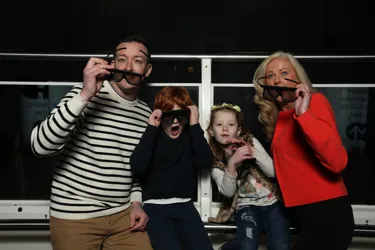 Stuck indoors and unsure of what to do when it's raining in Blackpool? Try our list of rainy day activities. There's something for everyone in this seaside town.
As one of Britain's most popular seaside destinations, you might never have guessed that 'Sunny Blackpool' is just as good on a rainy day. Since the opening of the Blackpool Tower, this seaside resort has been a favourite day out for holidaymakers and locals alike. Despite its renown as a sunny beach destination, many of the town's best attractions are actually found indoors. So, whether the weather caught you by surprise or you don't want to be stuck indoors on a grey and drizzly day, there are always fun things to do in Blackpool.

Below, we've created a list of all the best things to do when it rains in Blackpool, from catching a show to exploring the resort by vintage tram. You can even have a relaxing cup of tea with a slice of cake in the historic Blackpool Tower Ballroom. There's really something for everyone.
Let's start with one of Blackpool's most famous attractions, the iconic Blackpool Tower.
The Blackpool Tower
The Blackpool Tower has watched over the Fylde Coast since its doors opened for the first time in 1894. Known by many for its dazzling display in the annual Blackpool Illuminations festival, it was originally lit by 10,000 light bulbs (which have now been replaced by 25,000 eco-friendly LED lights). The tower is lit periodically throughout the year – perhaps you'll catch it lit up on your trip – and is available for hire for special events.
As one of Britain's most recognisable landmarks, the five main attractions at its base have drawn in thousands of people for 125 years. Originally called the 'Wonderland of the World', each of these attractions is perfect for a fun day indoors when it's raining. In this next section, we are going to discuss four out of the five fun things you can do at Blackpool Tower and leave the fifth one for a little later.
The Blackpool Tower Ballroom 
Elegant. Beautiful. Unforgettable. The Blackpool Tower Ballroom is known worldwide for its unique sprung dance floor and amazing architecture. The ballroom floor comprises 30,602 blocks of solid mahogany and measures 120 feet by 102 feet. Each of the room's substantial crystal chandeliers can be lowered to the ground and take over a week to clean. The names of 16 composers can be found around the room and the inscription above the stage reads, 'Bid me discourse, I will enchant thine ear' (a line from one of Shakespeare's sonnets).
An iconic British venue since the 19th century, it remains to this day a destination for fans of dance, music and the arts. Regular organists perform on the famous Wurlitzer and the space hosts a variety of concerts and dance events for the public to enjoy. If putting on some dancing shoes isn't for you, then you can always grab a spot of afternoon tea and watch the fun from your table. A great rainy day out.
Afternoon Tea
When it's cold and rainy outside, there's nothing better than a warm cup of tea and a slice of cake. So, why not make an afternoon of it? There are a range of tea houses to choose from in Blackpool, but the most decadent and breath-taking has to be in the Blackpool Tower Ballroom. With two packages to choose from, and a range of cakes, scones and sandwiches, there's something for everybody at afternoon tea.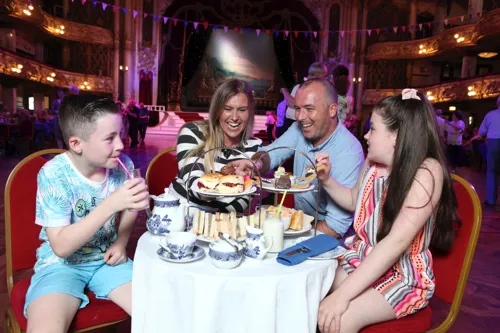 The Blackpool Tower Circus
As the tower's longest-running show, Blackpool Tower Circus has never missed a season since its opening in 1894. The attraction is known globally as the oldest permanent 'Circus Arena' in the world. Placed front and centre between the great legs of the tower, the arena seats up to 1,300 people. Its unique design features a hydraulic floor that fills with 42,000 gallons of water in less than a minute. Not to spoil the surprise, but all of the Blackpool Tower Circus performances end in a spectacular water finale. So, even if you're trying to avoid the rain in Blackpool, you might get wet anyway. 
During the 2-hour and 20-minute show, you can expect to see a jaw-dropping array of acrobatic stunts, incredible feats of strength and endurance, world-renowned juggling and a whole host of comedy capers from some of the best clowns in the business.
The main circus season ends on 6th November 2022, reopening with a new show for in February 2023. Tickets are on sale in advance for next year.
On selected dates in November and December 2022, the Blackpool Tower Circus welcomes the world-class variety show High Jinx to its arena. Created by the award-winning illusionist and magician Michael Jordan, High Jinx is 90 minutes of incredible tricks, illusions, escapology and much more.
The circus performance is suitable for all ages and no animals appear in the show. Adults and kids alike will be awed by the show but do note anyone under the age of 15 will need to be accompanied by a parent or guardian aged 18+ years.
A brief history of the Blackpool Tower Circus
The circus is also home to the Endresz family, a name known by European performers for over a century. Born in Hungary in 1945, Laci Endresz Snr was already a sixth-generation performer who spent 25 years perfecting the art of the flying trapeze. His wife Maureen came from an equally impressive circus family and specialised in foot juggling and balancing. After many years of performing together, they settled in England and had three children, Kate, Laci Jnr and Bubu. Following in their parents' footsteps, they all entered the ring at an early age, with Laci Jnr finding critical acclaim. He has appeared in some of the biggest circuses in Europe, on the Paul Daniels TV special (three times), before the late Princess Margaret and in front of Prince Rainier at the Monte Carlo Circus Festival.
The Blackpool Tower Dungeon
When better than a stormy day to go out and explore a spooky dungeon? The Blackpool Dungeon, located inside the Blackpool Tower, summons an amazing cast of theatrical actors, stages, rides and special effects to thrill you, chill you and educate you at the same time. In this immersive 360° experience, you'll discover hundreds of years of British history, hear gripping tales from witches and a torturer, get lost in a labyrinth, meet a plague doctor and a few other surprises that you'll have to see when you get there. You'll laugh. You'll scream (especially on the Dead Drop: Drop Ride). You'll never forget it.
Just for the adults, your final stop is a trip to the Red Lion. Pull up a stool, grab your favourite tipple and be transported back to 1896. Enjoy a spectacular show in a cosy but bawdy Victorian pub. The gossip never stops. You'll also get to discover your favourite medicinal mead and some historical facts about the taverns of the day.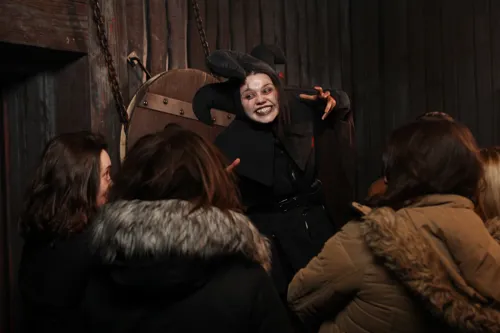 Indoor Sports Activities and Adventures in Blackpool
Blackpool has a variety of indoor sports and adventure games to offer on a wet day. For an adrenaline rush, try one of the resort's famed escape rooms or scaling some indoor climbing walls. If you're looking for something a bit less exhausting, why not try a spot of indoor crazy golf? We recommend level 7 of the Blackpool Tower, Dino Mini Golf, nine holes of prehistoric fun for the whole family. It's also a great team-building activity.
For a very different kind of indoor adventure, grab some pennies and try your luck along Blackpool's Golden Mile. With a series of arcades shielded from the rain, you can try the penny slot machines, shoot some hoops or immerse yourself in classic arcade video games.
Madame Tussauds Blackpool
Millions of people have stepped through the doors of Madame Tussauds since its opening in London over 200 years ago. Madame Tussaud herself, the exhibition's French creator, toured the British Isles for the first time with her show of life-like curiosities in 1802. An instant success, Madame Tussauds has always been high on the nation's list of things to do. So, what better opportunity than a rainy day to pay a visit to this unforgettable immersive experience? There's plenty of celebrities and exhibits here completely exclusive to Madame Tussauds Blackpool: from I'm a Celebrity…Get Me Out Of Here! and British YouTuber DanTDM (and his home office) to Coronation Street and Strictly Come Dancing (and many, many more), Madame Tussauds Blackpool is a fantastic day out for friends and family.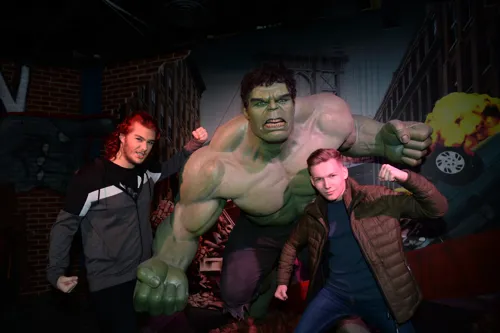 The Aquarium: Sea Life Blackpool
Sometimes, there's nothing more relaxing or magical than the aquarium. A perfect place for visitors of any age, Sea Life Blackpool is one of the most popular locations when it rains in this seaside resort. There's just so much to see. Get up close and personal with some cute crustaceans in the Rock Pool exhibit. Experience life under the sea in the Ocean Tunnel, where you'll discover an array of sharks, giant green sea turtles, stingrays and many more fish. If you're lucky, you might get to say hello to Phoenix, the tunnel's most famous sea turtle.
To add to the magic of the day, become a real-life adventurer by trekking through the Rain Forest section, where you'll see more turtles, piranhas and some poison dart frogs. For the truly adventurous, take a look at Sea Life Blackpool's Rainforest Ranger Table, featuring a host of creepy crawly creatures, from Giant African land snails to hissing cockroaches and even a praying mantis or two. Touch them if you dare.
The Sea Life Blackpool aquarium is an avid supporter of their global charity Sea Life Trust. Since 2014, they've supported the Trust to help reduce marine litter, rescue, rehabilitate and release hundreds of sick and injured seal pups, and create the world's first beluga whale sanctuary in Iceland. Keep an eye out for how you can support them on your visit.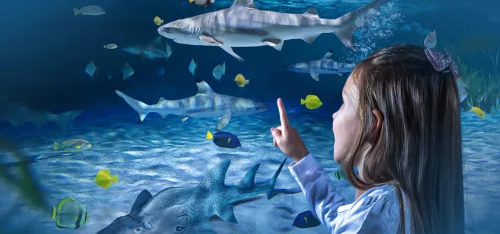 Sandcastle Waterpark
Instead of getting wet and cold outside get wet and stay warm? At Sandcastle Waterpark, you can escape the cold for something a little more fun. The UK's largest indoor waterpark is a tropical 84-degrees and has 18 thrilling slides and attractions to choose from. Launch yourself from the waterpark's roof (through some 360° loops and back-to-back turns) on the Montazooma or plunge into the dark tunnel of the Aztec Falls. The choice is yours.
For something a little more relaxed, you could try the Masterblaster, the longest indoor rollercoaster waterslide in the world. Or, try the Sidewinder, the world's first indoor vertical waterslide. Don't forget to have
some fun with the array of water cannons, mini slides and jets on offer. Whatever you choose, Sandcastle Waterpark is fun for all the family.
Shopping in Blackpool
When it's wet and cold outside, treat yourself to some retail therapy. In Houndshill Shopping Centre, located in the centre of Blackpool, you'll find more than 65 retailers to choose from across 3 floors. From cafes and restaurants to Primark, Next and River Island, you can shop the day away. If you can't find what you're looking for, the shops surrounding the centre have even more bargains to offer. When you're finished, we recommend heading to one of Cedar Square's independent cafes for a fresh cup of tea and a bite to eat.
Blackpool's Vintage Trams
If you're searching for some nostalgia, now almost unique to Blackpool, why not try one of the guided tours on Blackpool's beautiful vintage trams with Heritage Tram Tours. Their fleet of trams kept the people of Blackpool working and moving for around 135 years. Replaced in 2012, some of the older trams that had been 'retired' were kept and became the start of the Heritage Fleet at Vintage Tram Tours. Between 50 and 120 years old, the trams take quite a bit of maintenance.
From fan favourites like Tramcar 66 and the Luxury Dreadnoughts, being driven round in a vintage tram is a great way to see Blackpool when it's raining. You can even discover how the Heritage Trams make their way onto the tracks with a guided tour. Led by a resident expert, you'll get the chance to see the inner workings of the tram sheds and the engineering workshops. The Illuminations, Coastal and Promenade tours link to the Blackpool Tower (the Coastal tour actually starts from there), so it's easy to hop from one indoor experience to the next.
Peter Rabbit™: Explore and Play
Fun for all the family, but especially the young ones, Peter Rabbit: Explore and Play Blackpool is a 'must' on a rainy day for tots (you might even get to meet Peter himself at his Secret Treehouse show).
Make some music with the lily pad drums and the musical reed grass or find some insects and make them magically change colour in Jeremy Fisher's Sensory Pond. Climb through the vegetable patch, around Mr. McGregor's prize-winning carrots, and fly down the mudslide in Mr. McGregor's Garden. Be inspired in Mr. Bouncer's Invention Workshop, where you can try on some x-ray specs, try calling your friends on the hosepipe telephones and discover how Mr. Bouncer has used radishes to create electricity. Finally, take a trip to the home of Peter Rabbit and help his family cook up dinner. Don't forget to find the magic mirror that turns you into a rabbit.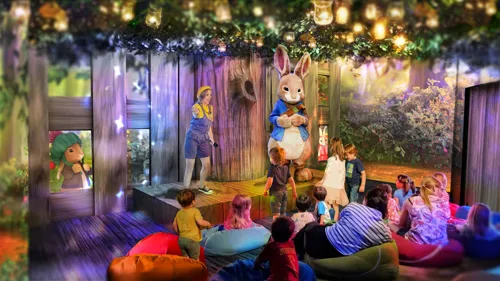 FAQs
Is Dino Mini Golf completely indoors?
Yes. Blackpool Tower's Dino Mini Golf is situated entirely indoors.

Do I have to book my ticket for Madame Tussauds in advance?
Yes. As there are often long queues on weekends, it is highly recommended that you book your tickets in advance, as there is no guarantee of getting one on the day.