Blackpool Food Bank
Wednesday 6th January 2021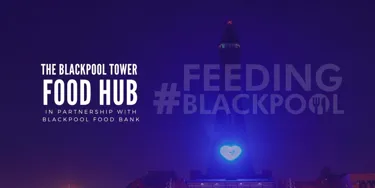 The Blackpool Food Bank supplies emergency food parcels through over 70 local partner organisations to support families and individuals in the Blackpool area who find themselves in financial crisis. 
They need your help now more than ever, with demand having tripled over the last 12 months, in part due to the current pandemic we are facing.
During the first National lockdown The Blackpool Tower collected over 5 TONNES of food from our amazing community, we have therefore decided to reopen the doors of the food hub so that we can help many more people across Blackpool 
WHAT YOU NEED TO KNOW 
Drop off point - Blackpool Tower - Promenade Entrance
Drop off times - 11:00 – 15:00
Drop off days -  Friday
Vehicles can pull up in front of the Tower whilst the food is being dropped off, barriers are in place to ensure safe distancing. Receptacles for the food will be left in the foyer area behind the first set of doors.
Help us to feed Blackpool! ❤️
#FeedingBlackpool #MakingMagicWithMerlin
ITEMS NEEDED 
PASTA
RICE
TINNED CARROTS
TINNED PEAS
TINNED SWEETCORN
TINNED TUNA
TINNED MEAT (HAM/CORNED BEEF etc)
TINNED SPAGHETTI / RAVIOLI
UHT MILK
TINNED CURRY
TINNED SOUP
BAKED BEANS
LARGE CEREAL
TINNED POTATOES
TINNED FRUIT
RICE PUDDING (or Custard)
TINNED CHOPPED TOMATOES
PASTA SAUCE
TINNED KIDNEY BEANS
(or other Bean/Chick Pea)
TINNED BUTTER BEANS
(or other Bean/Chick Pea)
TINNED SPAGHETTI
POT NOODLES
PASTA 'N' SAUCE POTS
CUP A SOUP
NUTS
CRISPS
BISCUITS
COFFEE
TEA BAGS
SUGAR