Built in 1894, The Blackpool Tower is one of the most iconic buildings in the UK
Becoming one of Britain's best-loved landmarks, it houses five amazing attractions, perfect for a fun-packed day for all to enjoy.
The original Blackpool Tower Ballroom was a smaller pavilion which opened in August 1894. Its stage was on the south side of the room
The Ballroom floor measures 120 feet by 102 feet. It comprises 30,602 separate blocks of mahogany, oak and walnut
Phil Kelsall has played the organ at the Blackpool Tower since 1975. He began playing in the Circus. Phill Kelsaal still plays the organ in The Blackpool Tower Ballroom to this day
The inscription above the Ballroom stage, "Bid me discourse, I will enchant thine ear", is from a sonnet by Shakespeare – Venus and Adonis
Each of the large crystal chandeliers in the Ballroom can be lowered to the floor and takes over a week to clean
The present Ballroom was designed by Frank Matcham and opened in 1899
The first Wurlitzer organ was installed in the Ballroom in 1929. It was replaced in 1935 with one to Reginald Dixon's specification
Excluding his time in the RAF during World War Two, Reginald Dixon played the Ballroom's Wurlitzer organ from 1930 until his retirement in 1969. He returned for a farewell concert in 1970 to mark 40 years at the Blackpool Tower
Among the Ballroom's one-time strict rules were:- "Gentlemen may not dance unless with a lady" and "disorderly conduct means immediate expulsion"
The names of 16 composers are to be found around the Ballroom
In December 1956, the Ballroom was badly damaged by fire, during which the dance floor was destroyed, along with the restaurant below. It took two years and £500,000 to restore the Ballroom to its former splendour. The restaurant became the Tower Lounge
Originally, dancing was not permitted on Sundays. Instead of dancing, an evening of sacred music was performed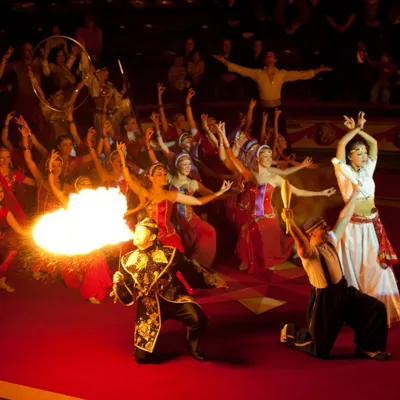 Blackpool Tower Circus
The Blackpool Tower Circus first opened to the public on 14 May 1894 and has not missed a season since. The present interior was designed by Frank Matcham and was completed in 1900.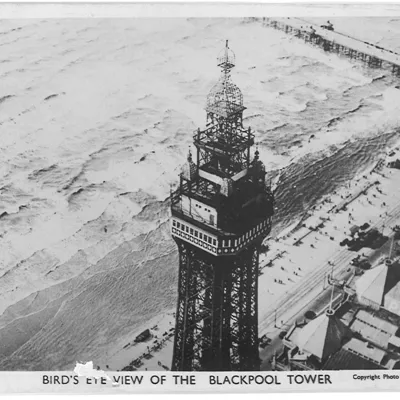 The Eye
Discover stunning panoramic views, a 4D Cinema and look down below from our great glass floor.
The Blackpool Tower Eye and solid-glass SkyWalk offer the best views across the North West of England from the top of the iconic Blackpool Tower.