Reschedule your tickets for free
Visit 3 attractions and save 35%
We are now cashless
Reschedule your tickets for free
Visit 3 attractions and save 35%
We are now cashless
Afternoon Tea Tickets
Experience afternoon tea in the world's greatest ballroom
Enjoy live music provided by our talented organists from the mighty Wurlitzer
The afternoon tea experience includes sandwiches, cream scones with clotted cream and jam plus a choice of cake from the daily selection, served with tea or coffee
Tables will be booked for 90 minutes. However, guests are welcome to stay in the Ballroom area
FAMILY AFTERNOON TEA
Family 3+
£59.95
(Min 1 adult, 1 child)
Experience afternoon tea in the world's greatest ballroom and save even further with our family packages
Enjoy live music provided by our talented organists from the mighty Wurlitzer
The afternoon tea experience includes sandwiches, cream scones with clotted cream and jam plus a choice of cake from the daily selection, served with tea or coffee
Tables will be booked for 90 minutes. However, guests are welcome to stay in the Ballroom area
AFTERNOON TEA + MADAME TUSSAUDS
Experience The Blackpool Tower Ballroom in style with afternoon tea, includes sandwiches, cream scones and a choice of cake served with tea or coffee
Enjoy live music provided by our talented organists from the mighty Wurlitzer
Plus entry to Madame Tussauds Blackpool with a visit to The Strictly Come Dancing experience
Your visit to Madame Tussauds is valid for 90 days from the day you visit the Ballroom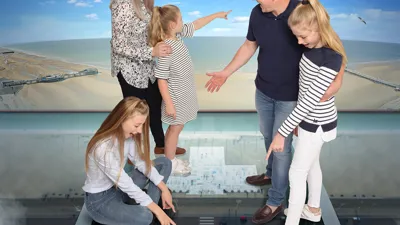 Annual Passes
A Whole Year of Awesome!
Visit the UK's best attractions with a Merlin Annual Pass
Great Passholder perks
Exclusive discounts including dining, shopping and special events
Find out more
Already have a ticket? Book your time slot below
Anyone wishing to visit, including Season & Annual Passholders, will need to pre-book a ticket in advance as we have reduced our capacity to allow for social distancing.
Blackpool Tower Eye reservations for Passholders - Please select your pass and book your visit on a day and time of your choice through our annual pass pre-book page.
Circus reservations for Passholders - If you have a Merlin Annual Pass or a Local Pass, booking your time slot is simple! Just book online here for £5 per person, and walk straight into the circus at your designated time.
TOWER EYE/CIRCUS PRE-BOOK
If you have an open-dated ticket or any of the below ticket types, simply click below to reserve your entry slot
Flexi Ticket, Free Return Ticket (Unused), Non-returned Booking for Closure Period, Under 3's, Carer Ticket, Complimentary, Third Party
Please ensure you bring your valid ticket with you to scan for entry. Your reservation alone will not provide entry to the attraction
Most of our promotions are now redeemable online - even those that state walk-up only
If you have a voucher from one of our fun-tastic partners such as Kelloggs or Cadburys, simply click below to enter your code and book your time slot
PLEASE NOTE: Kellogg's and Cadbury's vouchers are not valid for the Circus

 

Kellogg's promotional vouchers: Your gift code can be found on the inside of your packaging
Plan your visit by checking our attraction opening times here