THE BEST THINGS TO DO IN BLACKPOOL FOR COUPLES
Thursday 7th February 2019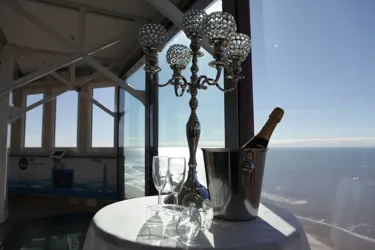 All couples need to get away every now and then. Whether you're still firmly in the honeymoon phase or are years down the line with little ones in tow, treating yourselves to a little staycation can rekindle any romance.
There's nothing like the relaxing allure of the seaside, so why not take a romantic trip to Blackpool one weekend? Here are a few ideas to help create the perfect fairytale holiday.
Reach new heights
Is there anything more like a magical fantasy than a moonlit ride on the Ferris Wheel? As you may know, there are three piers in Blackpool, and Central Pier is the go-to location for loved-up couples. Get a bird's eye view of the town under the twinkling stars where you can cosy up to one another - British weather permitting, of course.
Get the adrenaline pumping
You may think that rides are just for kids, but we're talking about the biggest rollercoasters around. Grown-ups only. Head south and you'll come across one of the world's most famous theme parks - Blackpool Pleasure Beach. The Big One is the tallest and fastest rollercoaster in Europe, but there are plenty of others that will get your heart pounding.
A trip to The Blackpool Tower
You can't go on a staycation to Blackpool and not visit the iconic Blackpool Tower. Inspired by the Eiffel Tower it can be seen from miles around, and there's so much to do inside. Take the 'walk of faith' hand-in-hand at the very top. The Blackpool Tower Circus is one of the most famous attractions in town - so why not take in a show? And The Blackpool Tower Ballroom is the perfect place to let your classy side come out when you take a whirl on this iconic dance floor.
Take in a show
A perfect evening activity. After your meal, whether it's a sit-down restaurant or fish and chips while strolling along the promenade, head to one of the town's many theatres for a night of dance, drama, comedy or music. You can choose from the Grand Theatre, the Pavilion Theatre and the Opera House.
Be cultured
If your daily life consists of commuting, school runs and quick evening dinners, you may not get the time to do more adult activities. A couple's weekend away is the perfect chance to do just that. The Grundy Art Gallery, located on Queen Street, is home to a huge collection of watercolours, oils, prints, and Oriental and British paintings. A little further south is the Great Promenade Show - an outdoor exhibition of sculptures and lighting from renowned contemporary artists.
Enjoy quiet time
If you're searching for a way to escape the hustle and bustle of everyday life, there are plenty of spots in Blackpool to slow down and relax. Stanley Park is the biggest park in the town and is the perfect spot to go for a romantic picnic. There are dozens of different paths to explore to find quiet spots, and plenty of nature walks where you can lose yourselves in the great outdoors.