SCHOOL VISITS TO BLACKPOOL
Friday 7th September 2018
The Blackpool Tower, The Blackpool Tower Circus, The Blackpool Tower Dungeon, Blackpool Tower Ballroom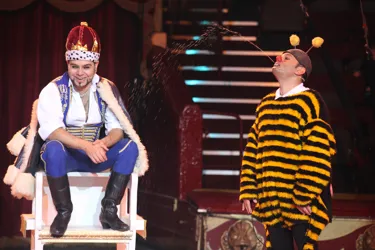 Now that we've said goodbye to the summer holidays and school is back in full swing, the teachers and educational professionals among us may be looking to start planning activities for their students.
One of the best things about Blackpool is that there really is something for every age group, meaning that whether you're arranging a primary school trip or something for college students, you'll definitely find attractions to cater for all your needs.
1. Jungle Jim's
For younger children, there's nothing more fun than using their imaginations and going on an adventure while safe indoors. Situated within the Blackpool Tower, Jungle Jim's is suitable for kids under 4ft 9" and there's also a toddler area for those under 3ft. Your group can swing, slide and climb to their heart's content, dipping in and out of ball pools and on the huge slides until they knacker themselves out.
2. The Blackpool Tower Eye
The Tower itself is home to some incredible attractions, including The Blackpool Tower Eye. The 4D cinema is an exciting way to experience The Blackpool Tower and on a clear day, you can see as far as Liverpool and even the Isle of Man. It could be a great setting for an art or geography class, and there's plenty of space for groups of people to wander around. If your class has never seen the north-west of England from a glass walkway 380ft up in the air, then they really should!
3. The Blackpool Tower Ballroom
The Blackpool Tower Ballroom oozes glitz and glamour, and all ages will be amazed by the stunning décor. There's a whole host of events to choose from, including a sleepover and our amazing School of Dance. Each year, schools who sign up for the program receive four ballroom dance lessons from our professional dance teacher and are given the chance take part in a spectacular performance evening in The Blackpool Tower Ballroom itself. The package is suitable for all ages and gives children the chance to learn a new skill, perhaps gain a passion for dance, and impress their friends and family with their newfound dance flair.
4. The Blackpool Tower Circus
The Blackpool Tower Circus is home to our favourite entertainers, Mooky and Mr. Boo! With plenty of space for several classes of children, all ages can enjoy the hilarious jokes, breathtaking stunts and amazing displays. For an extra special treat, each year there's a brand new pantomime, with 2017's being Mooky Doolittle and everybody loves a good panto!
5. The Blackpool Tower Dungeon
Teaming knowledge with entertainment is a great way to teach children about history and The Blackpool Tower Dungeon will definitely entertain them! This spookily fun attraction takes groups on a tour of Lancashire's murky past, and we even have special prices, dedicated booking lines and free teacher's tickets for schools and colleges. As well as this, we hold curriculum enrichment sessions, which gives pupils a really in-depth look at topics such as the war of the roses, The Blackpool Tower's history and crime and punishment in the medieval era.
6. Other Activities
As well as a huge range of activities to do within The Blackpool Tower, within walking distance is SEA LIFE Blackpool and Madame Tussaud's, which are both educational and fun. Of course, we can't forget the wonderful beach, Illuminations and everything else Blackpool has to offer too.
For more information, click here or contact our friendly team who will be happy to help.