How to book the Pick 'n' Mix pass
Tuesday 12th September 2023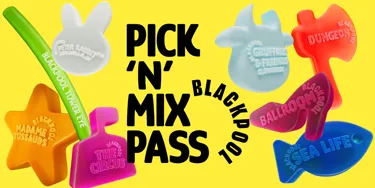 With Blackpool's brand new Pick 'n' Mix pass, you can choose from 8 of Blackpool's best attractions and enjoy the sweet, sweet taste of flexibility. Here's all the information you need on how to book.
How to book the Pick 'n' Mix pass
When you purchase your pass, you will be asked to select a time and date for 1 attraction to activate your pass. The attraction you are allocated at this point depends on which attraction website you are booking from.
For example, if you are on the Blackpool Tower website, this will be The Blackpool Tower Eye. If you are on the SEA LIFE Blackpool website, it will be entry to SEA LIFE Blackpool. 
1. Select the date you would like to activate your pass. 
2. Choose either our 1 Day, 2 Day or 7 Day pass.
3. Click 'Buy Now' to start the purchase.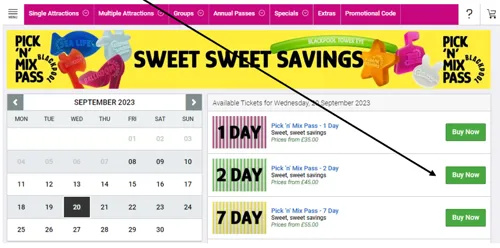 4. Select number of passes required. For example, 2 adults and 2 children. 

5. Choose the time you would like to visit your first attraction.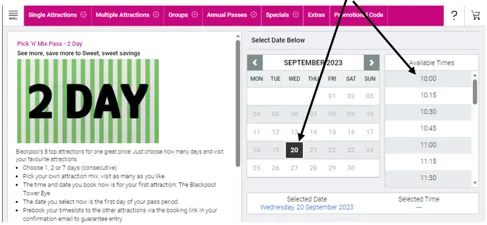 The pass is valid for consecutive days from the date you selected. For example, if you purchase a 2-day pass and select 20th September, the pass is valid throughout opening hours on 20th and 21st of September.
6. Once the time and date of your first visit has been selected, the passes will be added to your basket. 
7. Tick to confirm that you have read and agreed to the terms and conditions.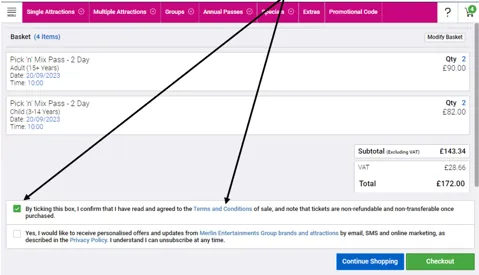 8. Click 'Checkout' in the bottom right-hand corner to proceed with the booking.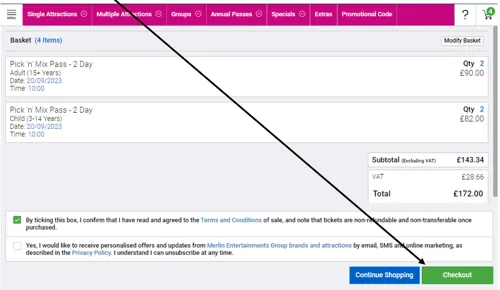 9. You will be asked if you wish to donate to our children's charity, Merlin's Magic Wand. Please choose the amount you would like to donate, or if you would like to skip the donation, click on continue without selecting an amount.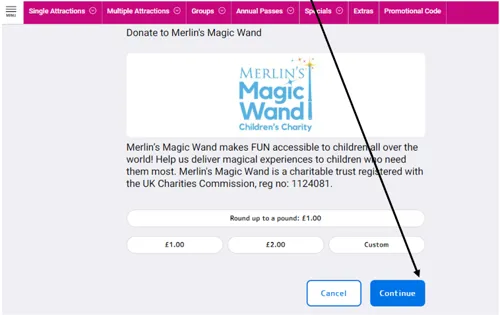 10. Select your preferred payment method; Card (debit or credit card), Google Pay or Apple Pay. 

11. Enter your billing details.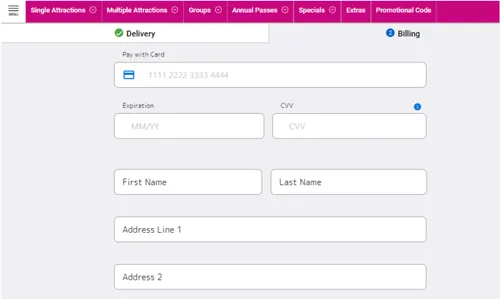 12. Click pay.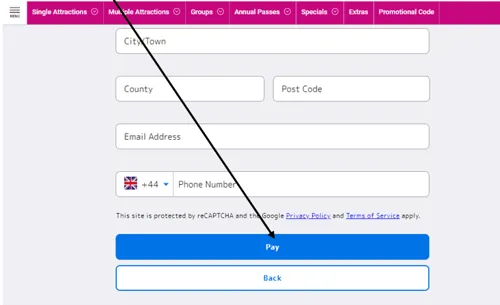 13. To complete the booking, review the basket information is correct and click on pay securely now.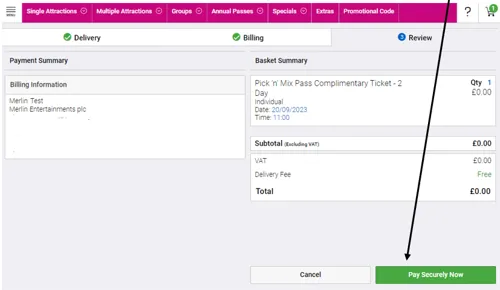 14. At the end of the purchasing process, a box will pop up allowing you to book a time for 1 visit to each available attraction in your pass period.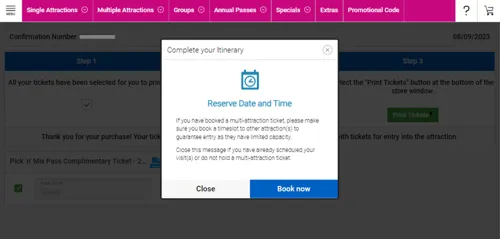 You will also receive a confirmation email with a link to the booking portal from noreply@accessoticketing.com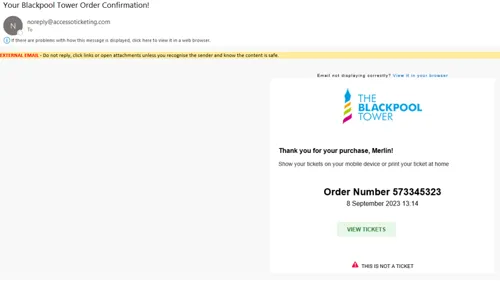 Please note: Spaces to stay in a wheelchair throughout the Circus performance are very limited. You will need to reserve one of these on top of your Pass booking. You can reserve a wheelchair space at your booked Circus performance here
The Booking Portal
The booking portal will only allow you to pre-book for 1 visit per available attraction. If you want to visit the same attraction twice, you can do this by visiting the admissions desk at the attraction and booking in a time.
1. To access the booking portal, click on 'MANAGE YOUR BOOKING' on your email confirmation.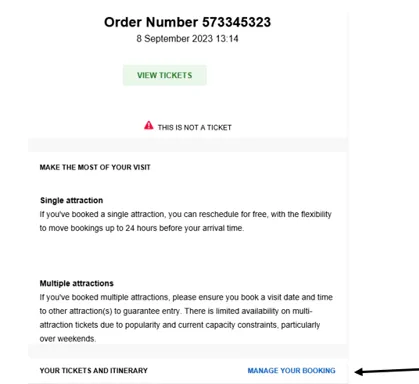 2. Click on Pick 'n' Mix in the left hand column.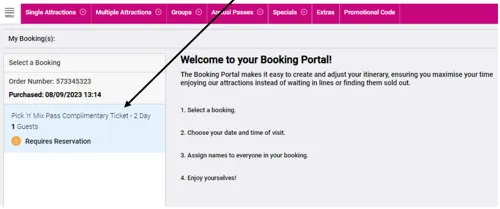 3. To book a visit for each attraction, click on 'Modify' next to the attraction you would like to visit.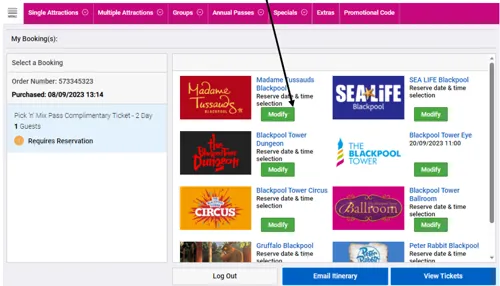 4. The pass is valid for consecutive days from the date you selected on purchasing. Select the date and time you would like to book the attraction for.
5. Click on 'Save Changes'.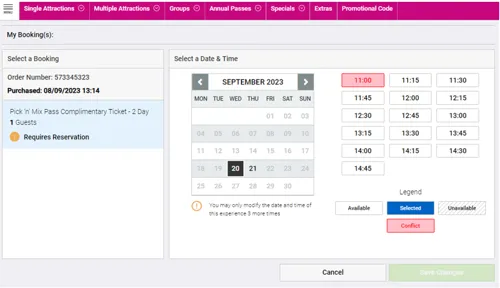 6. A box will appear if the booking has been successful. Click 'OK' and repeat steps 4 and 5 for each attraction you would like to visit.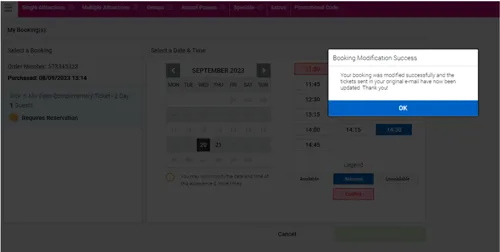 7. If a visit date/time conflicts with an existing booking, an error will pop up saying 'The date/time chosen may conflict with another scheduled event'. 
8. Click on 'OK' to proceed or 'Cancel' to repeat steps 4 and 5.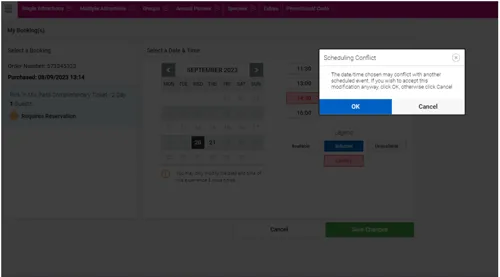 9. To print/view your tickets in the booking portal, click on 'View Tickets'.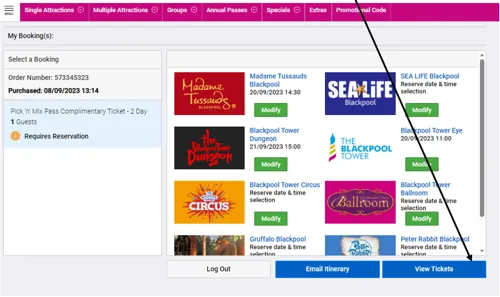 Tickets
The barcode on the ticket is the same barcode for each attraction.