HALLOWEEN 2017 AT THE BLACKPOOL TOWER
Monday 2nd October 2017
The Blackpool Tower Dungeon, The Blackpool Tower, The Blackpool Tower Circus, Blackpool Tower Ballroom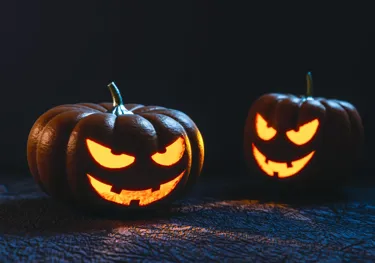 We don't know about you, but Halloween at The Blackpool Tower gets us very excited indeed. There's so much to get involved with, whatever your appetite for fear, and it's an excuse to eat as many sweets as we want - what's not to like? Here's a rundown of just some of the awesome events going on this spooky season...
1. Fun and Fear at The Blackpool Tower Dungeon
The Blackpool Tower Dungeon is practically the home of Halloween and is perhaps the most perfect place to spend days running up to 31st October. With creatures sneaking out from behind every corner, you can get a glimpse of Lancashire's murky past on the spookiest night of the year.
Starting from September 30th and running until 5th November, you can take part in The Blackpool Tower Dungeon Trick Or Treat event, which combines the scary fun of the dungeon with a few extra treats! As well as this, on October 10th, you can Face Your Fears with the help of the dungeon creatures, for no extra cost. Got a fear of spiders or enclosed spaces? Now's the time to step up and face them!
If you're feeling particularly brave, you could even try sleeping over at The Blackpool Tower Dungeon - do you think you'd last the night?
2. The Blackpool Tower Eye
If it's a thrill you're looking for, travel all the way to the top of The Blackpool Tower, where you'll find a glass viewing platform to gaze upon all the spooky local ghouls below. With Bar380's extensive cocktail list and in house entertainment, you can experience a sophisticated Halloween night, away from the hustle and bustle below.
3. The Blackpool Tower Circus
If a fear of clowns is bothering you, Mooky and Mr. Boo will give you the scare of a lifetime! Well, not quite - these two lovable clowns will definitely make you think differently about your fears. Take a trip around the world with them, see death-defying stunts and laugh until you cry, all the while dressed up in Halloween get-up, if that's your kind of thing.
4. Halloween Family Party at The Blackpool Tower Ballroom
On 28th October and Tuesday 31st October, The Blackpool Tower Ballroom is will be transformed into a Halloween wonderland! Fit for the whole family, there will be illusions, a UV light show and plenty of entertainment throughout the night.
In attendance, you'll find Jungle Jim, Hayley Kay and Bob Wooding with his epic balloon show. You can boogie the night away to Thriller, dress up as your spooky alter-ego and even be in with the chance of winning a Merlin Annual Pass for a family of four.
Of course, the rest of The Blackpool Tower will be open as usual, including Jungle Jim's and the stunning Blackpool Tower Ballroom.