DAYS OUT IN BLACKPOOL FOR YOUNG FAMILIES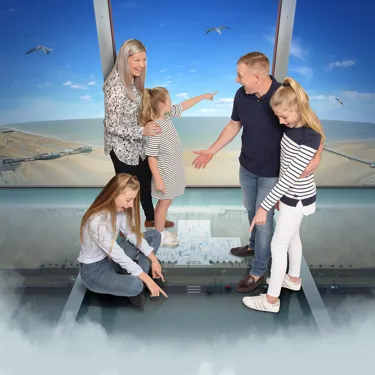 We're always looking for ways to fill up our free time when we've got kids, and having young children means their attention spans are often short and they constantly need to be entertained. If you've exhausted the cinema, the local soft play place and your in-laws, Blackpool's just waiting to take some of the weight off and give you a helping hand. Here are a few reasons why it's perfect for young families:
The Iconic Blackpool Tower
With The  Blackpool Tower Ballroom, The  Blackpool Tower Eye and The  Blackpool Tower Circus (to name a few), there's plenty to keep the kids occupied, as well as giving mum and dad a spectacular time too. What's more, if you're on a budget, the Blackpool Big Ticket gets you to access to all seven attractions within the tower.
The Food!
Fish and chips, ice cream, candy floss and classic Blackpool rock, there are plenty of treats to fill up the kids and tire them out. There are a number of café and food options in the Tower and along the seafront, so if you're looking for something a little healthier too, there's something for everyone.
SEA LIFE Blackpool
Taking your kids on a journey where they can not only learn something about the creatures of the deep but also see them in the flesh is something they'll remember forever. The SEA LIFE Blackpool is situated within the tower, and is included in the Big Ticket.
Jungle Jim's
If your feet are starting to hurt but the kids are still raring to go, we bet you'll soon find a burst of energy in Jungle Jim's. The soft play paradise is perfect for young children, and we have a feeling mum and dad will enjoy the slides too! Jungle Jim's is also included in The Big Ticket - wowza!
The Blackpool Illuminations
No childhood would be complete without seeing the Blackpool Illuminations at least once in your life, and luckily, they return year after year and get more and more spectacular. The Illuminations start from September 1st 2017 and run until 5th November 2017.