Blackpool Tower Inspired I-Scream is the perfect Halloween treat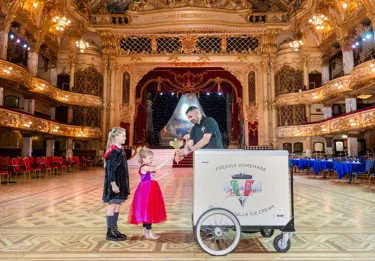 It's the spookiest season of the year! And what better way to celebrate than with a deliciously ghoulish treat from the Blackpool Tower?
Even on the wettest and windiest of days, Blackpool is always the most fun place to be. And now, with the launch of a new creation, you're in for a real treat! We have partnered with Notarianni Ices and made a Halloween-themed ice cream cone that's TWICE the size of a standard cone.
This is something both ourselves and Notarianni Ices have never done before! The ghoulish treat includes homemade vanilla ice cream, crunchy Halloween sprinkles, spooky chocolates, red blood raspberry and slimy, green lime sauce. 
Among the first to give their seal of approval were Bella Harris (aged 9), and Evie Harris (aged 6), both pictured below.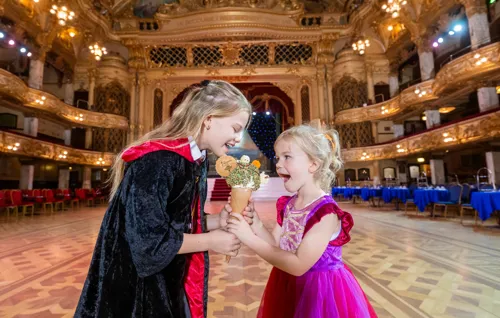 Aaron Edgar, Head of Operations at The Blackpool Tower said; "It is the first time in The Blackpool Tower's 129-year history that an ice cream has been created in homage to it. And the Giant Tower Cone, at a staggering one foot tall, is the perfect tribute." 
Notarianni Ices is a Blackpool institution renowned for its famous vanilla ice cream, and they are the perfect partner to collaborate with to create this scarily good treat. It is only available for a limited time so make sure you don your scary outfit and pop down to enjoy this ginormous ice cream. Guests who present their Blackpool Tower ticket at Notarianni Ices between 20th and 22nd October will each receive 50% off any Giant Tower Cone purchased.
To find out what's on in Blackpool throughout the autumn and winter season, visit https://www.theblackpooltower.com/ and https://www.visitblackpool.com/