9 SEASIDE FOODS THAT ARE QUINTESSENTIALLY BRITISH
Thursday 28th February 2019
Blackpool Tower Ballroom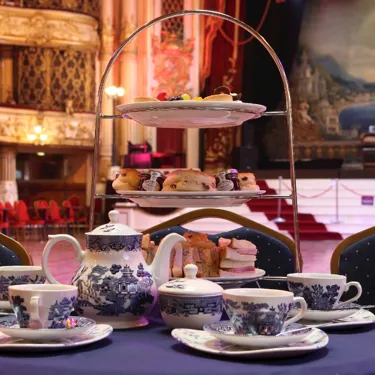 If there's one thing about the British, it's that we do like to be beside the seaside, whatever the weather. Stripy deck chairs, screaming seagulls, penny arcades and the salty wind whipping your hair, there are certain things that the seaside is synonymous with. If you're dreaming of sand, sea and sun - if you're lucky - here are our nine favourite seaside foods that make us long for the beach.
1. Stick of Blackpool rock
It wouldn't be a list of the best British seaside foods without mentioning the incredible edible invention that is Blackpool rock. While it may not be that groundbreaking - it's just a solid stick of sugar, after all - but there's something so alluring about rock. Is it the gorgeous colours? The amazing way it's made? Or the magical presence of a word running from one end to the other that you still don't quite understand? Probably all of them.
2. Doughnuts
Seaside doughnuts take things right back to basics. No jam, custard, icing or sprinkles, just deep-fried batter coated in plenty of sugar. Made in front of your very eyes so you know that they are fresh, there's nothing like watching the sun go down eating doughnuts warm out of a paper bag. These sweet treats are hard to beat.
3. Slush puppies
Perfect for kids and grown-ups alike, slush puppies are the perfect way to cool down after a hot day at the beach. Who remembers slurping too fast and ending up with a brain freeze? Or poking out your tongues with friends to compare blue and red stains?
4. Ice cream
Not just any ice cream. We're talking super-soft, snow-white ice cream that oozes out of a nozzle, swirling round and round in its mesmerising manner. Drizzled with raspberry sauce, sprinkled with, well, sprinkles and "would you like a flake with that?" Of course!
5. Potted shrimp
A Lancashire staple, potted shrimp would be present in many picnic baskets a decade or so ago. Now you can pick up a tub when strolling along the promenade. But, if you want to indulge in something particularly comforting and purely British, spread potted shrimp on thick, freshly-made butter toast, and enjoy.
6. Fish and chips
Or if you're feeling particularly cheeky, fish 'n' chips. We bet you're salivating now just thinking about it; crispy battered fish with chips that are a mixture of soft and crunchy, lashings of salt and vinegar (should you desire), mushy peas and whatever else you fancy throwing in there. Yes, please. Make sure you go to extreme lengths to protect your precious chips from the ravenous seagulls above.
7. Candyfloss
No matter whether you know exactly how it is made or tell your kids it's a cloud made by fairies, there's no denying that candyfloss is the perfect treat for an evening stroll. Who remembers munching straight from a stick? Or getting sticky fingers from plunging hands into a bag filled with the glorious spun sugar? The responsible adult in you may be worrying about calories, but your inner child won't be able to resist a mouthful or two.
8. Ginger beer
If you remember spending summer holidays and bank holiday weekends sat on the sand of Blackpool beach, then chances are you interspersed building sandcastles and paddling with lashings of ginger beer. The perfect refreshing drink for when the sand is between your toes and the hot sun is beating down on you, there's something so nostalgic about the spicy kick and pleasant fizz of each sip.
9. Cockles, whelks and winkles
This last one may be somewhat of an acquired taste, but once upon a time, there was nothing like tearing into a steaming bag of shellfish to warm the cockles of your heart on a cold day by the seaside. Boiled, seasoned with plenty of pepper and malt vinegar, cockles, whelks and winkles are proper traditional seaside food. Bonus points if you stroll along the promenade eating them with a toothpick.
Now that you've got the food sorted, what are you going to get up to on your next trip to Blackpool? Break up your eating with some of the incredible activities we have on offer here at the famous Blackpool Tower - we guarantee you'll have a good time.
BOOK TICKETS