6 THINGS TO DO IN BLACKPOOL AT NIGHT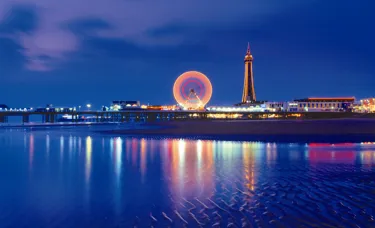 Staying entertained all day can be a challenge, but it's a lot easier if you're spending a few days in the British seaside town of Blackpool. There's plenty to do both day and night and whatever the weather. So without further ado, here are six amazing things you can do at night...
1. Head to the arcades
Spending a couple of hours in penny arcades is a classic British activity that is a must-do for anyone taking a trip to Blackpool. When the sun goes down and it's too dark to play on the beach, head inside with a tub full of 2p and 10p coins and see what you can get. Whether you have young kids or are one half of a couple, there's hours of entertainment to be had and plenty of laughs as you try desperately to win a cuddly toy on the claw.
2. The Blackpool Tower Circus
While you're visiting, why not check out one of the longest-running shows in the city? The Blackpool Tower Circus has been wowing audiences and delighting people of all ages since 1894, and there are now evening shows for you to enjoy. Depending on your day some shows start at 7pm, meaning there's plenty of time to check out other attractions before you settle in for a night of entertainment with the famous Mooky and Mr. Boo and gravity-defying acrobats.
3. Take a walk down Central Pier
After taking in the Circus, why not take a short stroll down the promenade? Just a little way south of The Blackpool Tower you will find Central Pier, which is an absolute hub of activity all day long. There are plenty of rides, attractions, shows and play areas to keep people of all ages entertained well into the night. And what's more, entry to Central Pier is free!
4. Eat, eat, eat
You can't visit the seaside and not have a portion of good old fish and chips. Load them up with salt and vinegar, find a nearby bench and look out over the ocean. Just make sure you keep them safe from the seagulls.
After that, it's time for dessert. Blackpool is renowned for its doughnuts; freshly made in front of you, hot and coated in sugar, they leave your fingers sticky and wanting more. If you're a real sweet tooth, of course, there's always Blackpool rock candy to try out and bags of candy floss to munch as you walk. It's definitely an occasional treat - get ready for a bit of a sugar rush.
5. Paint the town red
If you're a young couple or are spending a night away from the kids, consider heading out to a few bars or clubs for a spot of dancing and drinks. For cocktails and fantastic views of the city at night, Bar 360 is situated at the very top of The Blackpool Tower. There are dozens of venues around Blackpool that offer music, good conversation and an opportunity to let your hair down.
6. Blackpool Illuminations
This option depends on the time of year, but if you find yourself in Blackpool in the autumn then you simply have to check out the famous Illuminations. Chances are you won't be able to miss them - they have lit up the whole promenade for years! Whether you're nine or 90, it's hard not to love the Illuminations. Take a stroll, drive in your car or hop on board one of the old trams to take in the views.