5 THINGS TO DO IN BLACKPOOL ON A BUDGET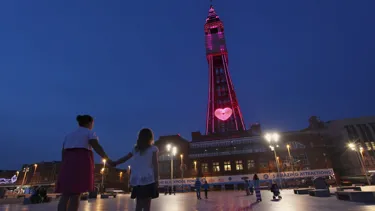 A traditional seaside experience is a perfect way to spend some quality time together, so why not head to the glorious city of Blackpool?
Kids will love it because there's so much to do, and parents will love it because of the nostalgic memories from their own childhood. But how do you do it without breaking the bank?
1. Go to the beach
Who doesn't go to the beach when they visit Blackpool? As one of the most well-known seaside towns in the UK, you simply have to head down to the water's edge during your stay. Whether you choose to do a spot of sunbathing (time it right with the unpredictable British weather!), roll up your pants and paddle away or build yourself a challenging sandcastle, there's certainly plenty to get up to down by the water.
2. Head to the arcades
Take a trip down memory lane and show your kids how you used to get your entertainment before the times of video games and the Internet. You don't need much money - the challenge is to make as little as possible last as long as possible! Change a £10 note into 2p or 10p coins, let loose on the machines and see how many tokens you can collect.
3. Picnic in the park
Stanley Park is the main park in Blackpool, and it's not hard to see why. Historical buildings and architecture, stunning gardens and a children's play area - there's something for everyone to do. It's free to enter so if you take your own picture it's the perfect budget-friendly activity.
4. Save on attractions
You can't go to Blackpool without hitting up some of the biggest sights in the city. If you're not sure what these are then you're in for a real treat. The Blackpool Big Ticket is ideal if you want to tick the big attractions off your list without breaking the bank, as you can see all these for just one price…
The Blackpool Tower Eye - Get a 360-degree bird's eye view of Blackpool from the very top
The Blackpool Tower Dungeon - Explore the gruesome history of Lancashire in real-life. Warning: don't do it alone.
The Blackpool Tower Circus - Be dazzled and amazed by the incredible tricks of contortionists and acrobats.
Jungle Jim's - Let the kids run wild while you have a sit down. Win-win!
SEA LIFE Blackpool - Who doesn't love an aquarium?
Madame Tussauds - Get pictured with the rich and famous all in one place.
5. Stroll down the pier
Did you know that there are three individual piers in Blackpool? Choose from the North Pier, the Central Pier or the South Pier - or opt for all three in one day. The walks themselves are all, of course, free of charge, but there's nothing like a family stroll out to sea, taking in all the sights and sounds and soaking up some sun.
There's always plenty happening in these areas for you to get involved in. And if you're near the Central Pier, why not take a ride on the Ferris Wheel for 100ft high views?