Saturday 7th October
7pm - midnight
From £20
Promenade , Blackpool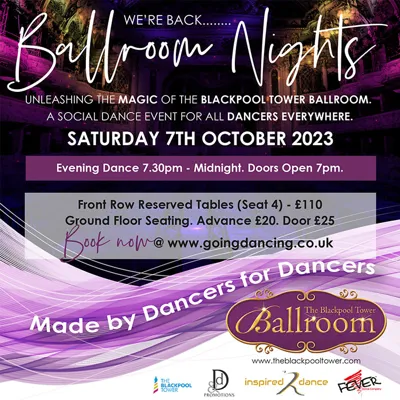 A Spectacular Evening with amazing Cabaret and Music.
A Spectacular Social Dance Evening with amazing Cabaret and Music. Unleashing the Magic of the Blackpool Tower Ballroom!
Get ready to step into a world of dance enchantment at the Ballroom Nights event, where rhythms and melodies come alive, and the night is set to dazzle and delight! Join us for a 50/50 Social Dance extravaganza, a dance event made for dancers by dancers, at the illustrious Blackpool Tower Ballroom on Saturday 7th October 2023
Be captivated as the iconic Blackpool Tower Ballroom transforms into a dance paradise, featuring the scintillating beats of Latin Ballroom and the graceful allure of Sequence dancing. It's a celebration of elegance, style, and pure joy on the dance floor.
The dynamic duo, Stephen Holland and Jason Parkinson, will guide you through an unforgettable night of dance delight. And there's more! Prepare to be mesmerized by a special guest appearance from none other than Chris Hopkins, the renowned Blackpool Tower organist. His enchanting melodies will sweep you off your feet and into a magical dance reverie.
Join us at Ballroom Nights for an extraordinary night of rhythm and romance, where the joy of dance unites us all. Don't miss out on this dance extravaganza—it's an experience that will leave you spellbound and longing for more.