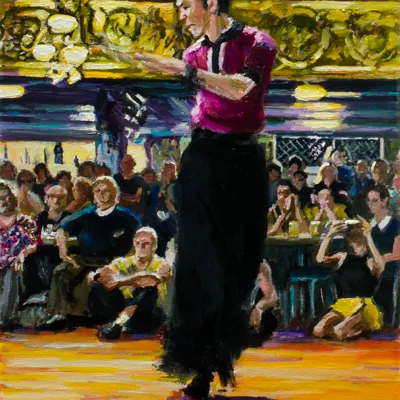 IT'S THE PERFECT COMBINATION!
The UK's most famous dancefloor is just a heaven-sent opportunity for Northern Soul lovers from all around Europe to show off their moves to this vibrant and enduring music style that has outlasted all its contemporaries with record-breaking crowds attending dance events week in, week out around Great Britain.
THE 1970S SAW UNDERGROUND, CULT MUSIC GENRES SUCH AS PUNK, DISCO, JAZZ FUNK ALL COME TO THE FORE AND THEN FADE
Only Northern Soul is still at the forefront nationally, and now gaining a worldwide following.
Organiser/promoter Richard Searling tells us why: "The term Northern Soul was first coined by journalist and American R+B expert Dave Godin in 1971 on one of his trips up North to the legendary Highland Room sessions at the Blackpool Mecca.
It's music that when you hear it for the first time, you feel like you can relate to the lyrics and the uplifting melodies stay with you. So many of these records sound like they should have been chart hits – but in fact, due to limited budgets for promotion and distribution back in the sixties, they sank without trace until "the Northern scene" with its passionate collectors and DJs who went to America and discovered these wonderful 45s on labels we had never seen before and performed by artists who amazed us with their talents. Over 46 years later, the Northern Soul scene is bigger than ever. Top-selling films have been critically acclaimed recently, and how often do we hear our favourite Northern sounds on TV adverts. This distinctive, emotional music is now showcased in many iconic venues in all parts of the UK, the best of all being right here within the sensational Tower Ballroom.
Back in 1981 when the legendary Wigan Casino All Nighter closed it's doors for the last time, as a resident DJ there, I could only have dreamed that my vision to bring this magical music to so many thousands of Northern Soul fans at the most famous dance venue in the world back in 2006 would eventually become a reality. Now, eleven years later, we have grown from just one event a year to six, with two 3-day weekend events in Spring and November and themed soul nights at Christmas, in the summertime, on bank holidays and our annual Northern Soul Reunion night in September. We also host the World Northern Soul Dance championship every November in the Tower Ballroom which has quickly become established, along with The Blackpool Tower itself, to be the most prestigious event of its kind throughout the whole of Europe"